Three days since the release of 1 lakh car from TATA, I am having hick ups on the concept.. agreed; its a great creation packed with innovation. But does it have what it requires to succeed? A lot of people are concerned about the congestion on Indian roads. But that my dear friends is restricted to the major India cities (at least for now), which have an overwhelming population.
The real users of the car will be the middle class who form the majority in the Indian towns. Now let me describe these 'small towns' the dominant population here are small businessmen and people working in service industry like banking! And this class forms THE target audience for the car.. So what are the problems of having such a small car in these towns?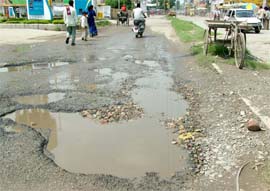 First of all towns have narrow roads and they may not be able to handle the sudden explosion of traffic! And knowing our politicians they are not bound to widen the roads in a giffy.. they will take their own sweet time by which the small towns will face traffic problems earlier found only in cities like Bangalore.
Also about the roads again.. having driven in these small towns we need to keep in mind that they may not have best of roads and one kilometre out of the town you reach villages where the only form of transport are jeeps and TATA Sumos. Will NANO's baby tyres be able to carry it on the rough terrain? Can Nano rule the roost in an area under the rule of big brother Sumo? I doubt it!